According to Independent (2019), "Gatwick is the busiest single-runway airport in the world. In 2018 it handled 46.1 million passengers, making it second-busiest in Britain." Heathrow airport handled 80 million passengers in the same year.
Due to drones being flown illegally around the area, there was chaos at Gatwick Airport at the end of 2018. The culprits held a segment of the economy, causing the cancellations of almost a thousand flights and disrupting the journeys of  150,000 passengers. Heathrow Airport experienced the same issue at the beginning of this year when illegal drones were been flown on site.
Source: Google Trends (2019) - Data showing a surge in online search for drones.
At Dronescend, we anticipate two major changes in the foreseeable future:
We expect a rise in the demand for drone catching equipments. Defence equipments are used to disrupt signals, and destroy illegal drones. Since the incidents, Gatwick and Heathrow Airports have started spending millions on drone defence equipments. At Dronescend, we are tempted to capitalise by selling some of these equipments, but we are conflicted by our passion to improve the industry.
The purchase and use of drones will become regulated as parliaments will attempt to minimise the present risks.
Our suggestion to you; stay safe and keep flying, but please do not fly your drones in prohibited locations. Find the information below for the rules regarding the flying drones in the UK.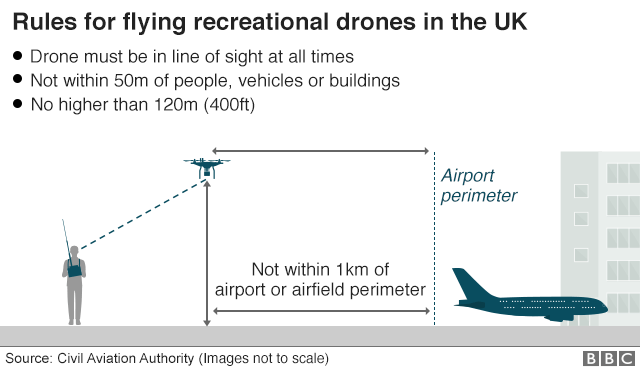 ---